Blog
Little Muddy Gifts – A Journey to Retail
posted Jeff Zarling on 20 April 2017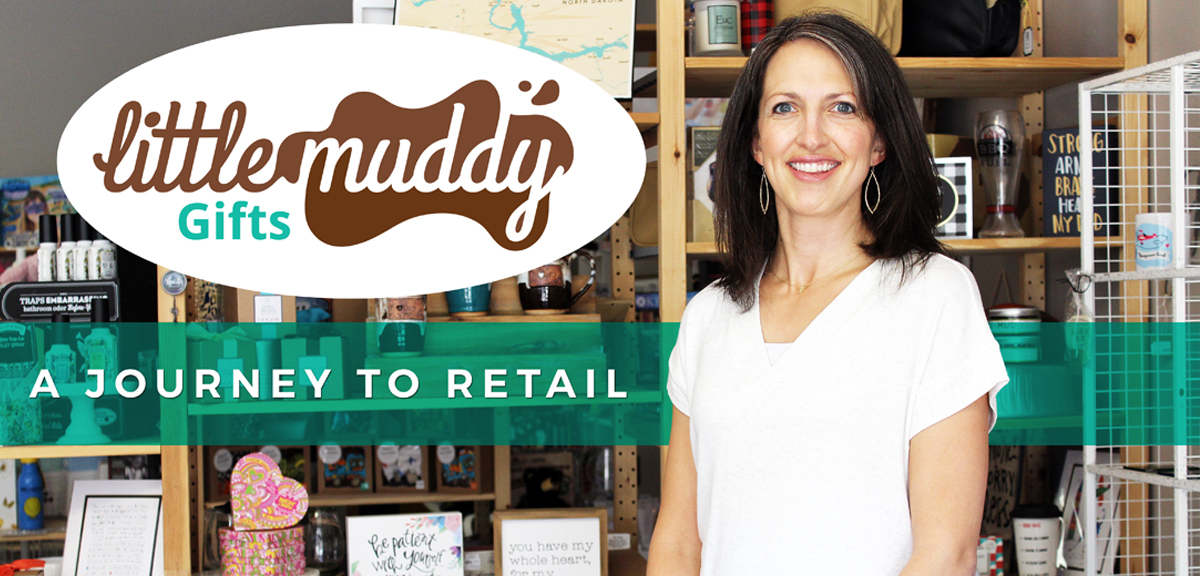 In May of 2015, Little Muddy Gifts opened its doors in the heart of downtown Williston on the corner of Main Street and Broadway. Owner Dana Johnson desired to meet what the community has long defined as a deep need for more retail options in the area.
Johnson is not one of those entrepreneurs that have long desired to own her own business. Her passion for creating the business grew over time out of the intersection of past experiences and a view of the market needs and opportunities.
Gathering Experience in Teaching and Retail
Born in Bismarck and raised in Williston, Dana (Forthun) Johnson graduated from Williston High School. She then attended Luther College in Decorah, Iowa where she earned a degree in elementary education.
One year during college, she worked at a summer camp in Custer, South Dakota and met Nick Johnson, a student from Augsburg College in Minneapolis, Minnesota. After college, the two were married and settled in the Twin Cities.
"While I was hunting for a teaching job," explains Dana, "I worked for a furniture and gift store in Anoka for about a year and a half. I also helped out with Adventure Clubs before and after school programs."
A career opportunity for Nick moved the couple to Sioux Falls, South Dakota where Dana took a position as the Volunteer Trainer and Coordinator for Junior Achievement. Junior Achievement's volunteer-delivered, kindergarten-12th grade programs foster work-readiness, entrepreneurship and financial literacy skills, and use experiential learning to inspire students to dream big and reach their potential.
"My role was to coordinate, train, and oversee more than a thousand volunteers," said Dana. Her role connected her with education and exposed her to business and entrepreneurship topics.
In the fall of 2004, Nick was hired as the executive director at Upper Missouri Ministries, a Christ-centered outdoor ministry in Epping, North Dakota and the couple moved to Dana's hometown of Williston.
After working a year and a half at the Williston CVB, Dana was hired as the Gift Shop Manager and Volunteer Coordinator at Mercy Medical Center, a part-time position. "It was a great fit," explained Dana. "We had started a family so the schedule worked well and it combined my experience of retail from the Anoka furniture and gift store with the volunteer coordination from Junior Achievement in Sioux Falls."
Dana spent five years running the gift shop. "I found I really enjoyed retail," she says reflectively. "I liked the buying process as well as being around people although the position lacked growth opportunities."
Dana was presented with a part-time training position at a local bank. "It was a chance to explore more of my teaching experience and it presented more growth opportunities," she explained.
Exploring a Nagging Need
While thoroughly enjoying her training position, she found herself thinking a lot about the retail business. It was 2013, a time with explosive economic activity driven by the oil industry but she started questioning why retail was not developing. She also longed for more personable and unique gifts for weddings, birthdays, and other occasions.
Her mind space was consumed by the thoughts of a retail business and she began researching the possibilities. She bought a couple of books on retail, explored different merchandise, and compiled a list of potential vendors.
"It was fun. I was enjoying the process and it did not feel like work. I talked a lot about it with Nick," she reflects. "He was very encouraging. He said 'It doesn't cost anything to write a business plan,' so I did."
As her quest to explore a retail business consumed more of her time and mental energy, she knew it was time to leave the bank. In 2014, Dana worked part-time as a communications contractor for the ND Department of Transportation in the summer and substitute taught in the fall providing the flexibility she needed to pursue her passion further.
By the end of the year with a fully fleshed out business plan, Dana considered exploring more seriously potential retail spaces. "Once again, Nick said 'It doesn't cost anything to look.'" she recalls with a chuckle.
Taking the Leap
The couple now had three children and appeared to be at a pivotal moment from a number of perspectives. They leaned on their faith and sought clear direction.
In December of 2014, her realtor called about a space available downtown at a rate that fit within her budget. "I'm not a big risk taker," assures Dana. "The downtown space was what I ideally wanted and the price was doable, especially with what was going on in Williston at the time."
The lease opportunity and a number of other factors aligned and the couple decided to pull the trigger.
Keys to Successful Launch
Capital is a key - Dana sought the services of the Small Business Development Center where Keith Olson reviewed the business plan and assisted her with putting together her financing package. A combination of personal resources and equity along with a Flex Pace package provided the capital necessary to meet the needs of shelving, inventory, computer and point of sale (POS) systems and operating funds.
The planning and research Dana conducted proved to be invaluable throughout the launch process and into the operation of the business. She worked through setting up a particular look for the retail space, account setup with vendors, product purchasing and inventory management, POS setup and merchant account setup.
Time turned out to be a critical factor in numerous ways. The space she found in December would not be available until March but it turned out to be just the right amount of time. "I was surprised by the time it took to get the funding," Dana stated. "We submitted in January and did not close until March. Everything seems to take longer than you expect from the sign to the many different business accounts."
Year One and Beyond
The store opened in May of 2015. "The first nine months were awesome," Dana says with excitement. "We were well received with plenty of positive feedback. People said 'Finally', 'We needed something like this,' and we saw people buying gifts for people of all ages."
She describes 2016 as slower than the first year. Somewhat attributed to the continued slowdown in the area economy as well as some of the newness of the store wearing off. The numbers for 2017 are tracking similarly to 2016.
"I was most surprised by the strength of the baby market," reflects Dana. "We are expanding our offerings in that area. Our products with a story also do well and I enjoy seeking out new suppliers and constantly changing our offerings. I like change and learning new things"
As she looks to the future, Dana is focused on product mix and growing the awareness of the business. "I still have people say 'I didn't know you were here.' It's a constant challenge to get the word out and promote your business."
Little Muddy Gifts is located in the heart of downtown Williston at 4 West Broadway and you can follow them on Facebook
@LittleMuddyGifts
or their
website
.