Blog
Craig's Small Engine Repair – 30 Years Working in God-Given Talent
posted on 16 October 2017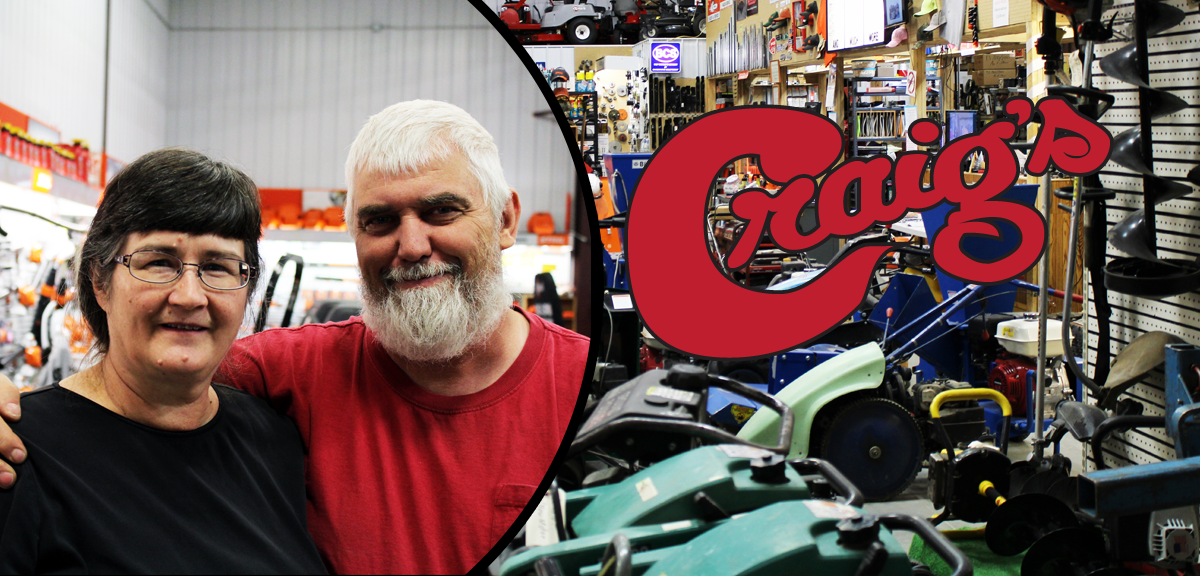 On June 1, 2017, Craig and Rena Helberg and their twelve children celebrated the thirtieth anniversary of their family business, Craig's Small Engine Repair. A month ago, the couple were recognized as the Existing Business of the Year by the Small Business Development Center in Williston at their annual awards banquet hosted in partnership with Williston Economic Development.

Owning and operating a small business for thirty years is a challenging feat. When I sat down and asked Craig to tell me about Craig's Small Engine Repair, he started by stating "It's simply about using my God-given talent to repair things."

Fiddling and Fixing
Craig Helberg was born and raised in East St. Paul, Minnesota, the son of a hardware salesman for Montgomery Wards. At about the age of twelve, Craig began fiddling with broken mixers, toasters, other appliances and lawn tools.

"Dad had lots of tools," Craig reflects. He also had a steady supply of used and trade-in lawn mowers that Craig would repair. He got his first car at sixteen and immediately tore it apart and overhauled it. He began stockpiling parts for the car and took up bicycling.

Bouncing Around
Craig developed a real passion for bicycling and spent much of his time doing so while working at a local banquet center and later a foundry. In the late '70's, he got a call from his brother, who was welding out in Williston, North Dakota where there was an oil boom.

Craig made the move and thoroughly enjoyed biking around the area including Highway 1804 and every trail he could find. He started working at Commercial Builders. Later, he found himself biking less and working more including washing dishes at El Rancho and stocking shelves at the Red Owl grocery store. It was at El Rancho that Rena caught his attention and the two began dating.

In 1983, he was laid off from the construction company and moved to Wisconsin to work the summer at a relative's dairy farm.

After leaving the farm in early fall, Rena moved to Marshall, Minnesota to pursue her secondary education at Southwest Minnesota State University. "About that time, I got a call from Jim Germann at Time Rentals in Williston," Craig recalls. "He asked me to come out to be a shop mechanic. So I loaded up the '68 Camaro and came back out to North Dakota." Rena eventually returned to Williston, and the couple was married in December, 1984.

Turns out it was the beginning of the end of that oil boom and Craig saw his hours cut. "I would work in the shop from 4:00 a.m. to 8:00 a.m. and then find ways to generate an income," said Craig. "I did equipment repairs, mowed lawns and transported trucks and vehicles to make ends meet."

Starting a Business in a Downturn
"We started attending church in 1985 and made a number of close friends" remembers Craig. "A couple years later, one of our friends, Larry Frasier, says 'Why don't you start a business?'" Frasier was leasing a portion of a shop for his Novus Windshield business and suggested Craig talk to the owner, Gary Sukut, about leasing another portion of his warehouse.

"On June 1, 1987, we opened Craig's Small Engine Repair in half of the shop space with a basic tool chest and a single workbench," says Craig. The business opened as the economy foundered and people had left in droves. "I remember picking up the paper and reading a quote from a local businessman stating 'Last one out of Williston turn out the lights," recalls Craig with a twinge of pain.

The business started out slow but saw steady growth. "People didn't have money to buy new so repair was a good option for many. We fixed everything from popcorn poppers and apple peelers to farm equipment, golf carts and engines," explains Craig.

As the business built up its base, the couple found other ways to make ends meet for the first three years or so including mowing lawns, selling Christmas trees and helping Larry install windshields. Rena took an accounting class at the University of North Dakota – Williston (now Williston State College) to manage the bookkeeping.

Growing and Focusing
Craig and Rena continued to build the business and the family. The couple is proud parents of twelve children who were born between 1986 and 2004.

In the late '80's, a second Stihl sales and service franchise was open for the Williston market and the Helbergs applied. The franchise, however, was awarded to Coast to Coast Hardware.

In 1990, Rena signed up for a marketing course that was offered at the New Armory. "I remember the instructor said 'Focus on one thing,'" recalls Rena. "Dean Tangedal of Basin marine, the other Stihl dealer in town, also attended. He later approached the Helbergs about buying his Stihl franchise.

"We met with Oscar Haugen at First National Bank," shares Craig. "It was our first loan ever in the business and we were able to buy the franchise and the inventory." The move solidified the business, provided a more focused business model and led to more steady growth.

Expanding Family in the Family Business
In January of 1997, Craig broke his ankle and was limited in his ability to work. Their son, Samuel, came down to help out at the shop and enabled them to get through that period of time.

The experience led to all of the kids eventually working in the business: cleaning tools and the shop, putting things where they go, tearing down old mowers, experimenting with repairs and helping with paperwork. A number of the family members work in the business today with expanded roles including sales, service and repairs.

Building – The Big Adventure
The business had resided in the same shop for nearly twenty years as the Bakken boom took hold. Craig and Rena often thought about the risks of losing their lease and the advantages of owning their own building.

Throughout the years and different owners, they considered and attempted to buy the building they were in but it never came to fruition. As a backup plan, they acquired a commercial lot in 2006 owned by the city.

"In 2010, we had a family conference and discussed our options," related Craig. "Option A – we build a building big enough to expand and maybe provide for the kids to start new businesses. Option B - if we lose our current space, we shut the business down and move on."

"After two weeks of prayer, we made the commitment to build the building," says Craig. "Two days later this guy calls out of the blue, 'Do you want to buy a steel building? I've got one to get rid of.'" They consulted family and friends including a construction manager in Missouri that they knew through ministry that offered to support them through construction.

"All we had was dirt and dreams," Rena reflects. "The bank took a chance on us." After their friend from Missouri had to quit, they acted as their own general contractor, performed a lot of labor, and hired consultants and advisers where needed. Construction began in 2011 and the footings and stem walls were poured by the end of 2012.

Through a great deal of sweat equity, a measured amount of debt and five years of construction, the project was completed and the family received their certificate of occupancy in February of 2016. On June 1, 2016, they closed the doors on the old shop - 29 years to the day that the business was started.

"We are very grateful to the people of Williston and the surrounding area for all the support they've given us for the past 30 years. To God be the glory – great things he has done," say both Craig and Rena.