Blog
Millennials Matter – Challenging Leaders to Develop the Next Generation of Leaders
posted on 18 December 2017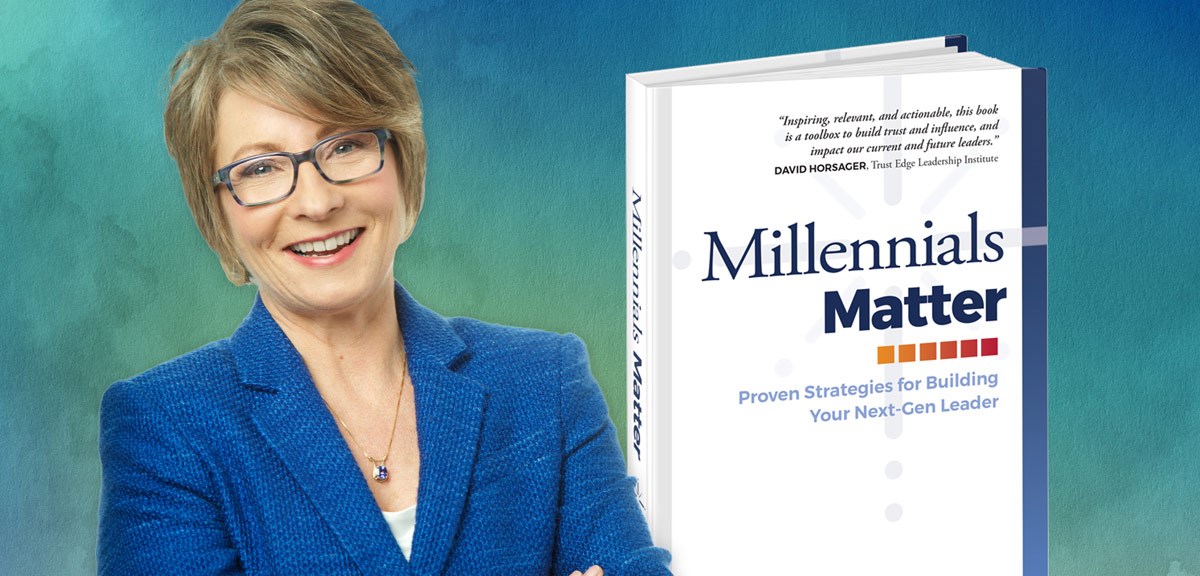 There is perhaps no other generation that has been talked-about, written-about, and agonized-about more than millennials. Common perceptions and characterizations of this generation include the views that they have a sense of entitlement; live longer at home, value the here and now over what the future may hold, have a short attention span and have a lack of determination among others.
While many of today's leaders struggle to connect with this generation, it is imperative that they find a way to not only connect but to embrace and raise them up as they become a growing segment of the workforce and transition into the leaders of tomorrow.
Millennials Matter was written by Danita Bye to both challenge and equip today's leaders to connect with and raise up millennials as the next generation of leaders. Bye is a seasoned sales consultant, executive coach and nationally-recognized speaker with a Master of Arts in Transformational Leadership.
Through her experience, she has become passionate about inspiring business leaders who see investing in their millennial leaders as a key business growth and succession strategy, integral to their leadership legacy.
An Unplanned Path
That was not always her passion. Sales and business development are not the skill sets of the person Bye set out to be as she embarked on her education. As a pre-med student, Danita envisioned a career in medicine serving abroad in the mission field.
"In order to earn money to attend medical school, I interviewed for a sales position with Xerox Corporation," recalls Bye. "I didn't want the position because it didn't fit in with my vision for medicine."
It was the early 1980's; Xerox was a Fortune 100 company with a coveted sales training program and corporate sales career path. "They were the best-of-the-best and persistent in pursuing me for this sales position," says Bye. "I believe they had trouble retaining people in North Dakota and saw my roots on the ranch in Stanley as a sign I would stay."
Bye eventually signed on with Xerox where she learned successful sales strategies and was responsible for a territory in southwest North Dakota. "I remember meeting with managers at the coal plants trudging through ruts in the mud in my navy blue suit – required Xerox attire," recalls Bye with a chuckle.
Salvaging and Investment
A number of years later, Danita and her husband, Gordon Bye, invested in a med-tech company started by a long-time friend. "The technology was great but sales were poor and we were about to lose our life saving," Danita reflects. "We wanted to salvage our investment so we negotiated with the other investors to come in and turn it around."
After ten years at Xerox, Danita left the corporation and focused her efforts on the med-tech company. "We were David facing a number of Goliaths in the industry so we had to do things smarter," said Danita. "They had an outside sales approach with a comp plan that paid them to visit customers. It was a doughnut-delivery culture."
"We setup a telesales structure and implemented Xerox-style sales strategies and processes. We designed a comp plan that rewarded sales people for partnering with clients to grow the business and paid them on margin versus revenue enabling them to think like business owners.. It was very innovative at the time."
As a result, the company enjoyed margins 50% to 60% higher than the industry leaders and grew revenues from a $300 thousand per year run rate to $20 million per year when it was sold to Starkey Laboratories ten years later.
Sales Growth Specialists
With the sale to Starkey, she contemplated her next move. "I had to ask myself, 'What do I get jazzed about,'" recalls Danita. "Building sales organizations; taking good raw talent and transitioning them from B-players into A-players by training them in sales processes, messaging and strategic thinking."
In 1997, Danita started Sales Growth Specialists focused on sales growth consulting, strategic leadership consulting, and recruiting and coaching for Sales people, Sales Managers and VP of Sales. For over twenty years, Danita has delivered sales consulting solutions for numerous clients with a special emphasis on high-tech and high growth industries.
Shifting Gears in North Dakota
As Danita and Gordon transitioned into a new season of life, they moved in May of 2014 to Danita's childhood home on a ranch south of Stanley in western North Dakota. "Technology has allowed me to operate a global leadership and sales development firm from a ranch in North Dakota," shares Danita.
While on the ranch, she has found more time to focus on writing and sharing her experience in ways beyond her consulting with clients. She started a blog on Dakota Leadership, a reflection of the values and lessons from her home state and upbringing on the ranch that she credits with contributing to her success. She also completed her second book, How to Hire Superior Sales DNA.
The Millennial Moment
While Danita has a long history of consulting with and training business owners and leaders, an invitation to give the commencement speech at the University of Sioux Falls planted seeds of thoughts on impacting the next generation. Through her consulting, she also understands the many challenges today's leaders are having with the next generation.
She soon after had a conversation with her 23 year old son wherein he stated, "Mom, you must prioritize passing on your leadership wisdom and insights to the next generation."
It was at the intersection of those events that the vision for Millennials Matter was born. "As the vision developed and I shared it with my network, I was challenged no less than ten times," relates Danita. "'Is that your sweet spot?' It caused me to ask and explore, 'Who is my audience, who are my people, who do I connect with?"
"With that, it was clear – Millennials Matter is written to my clients, to my generation of leaders."
Calling on Today's Leaders to Raise up Next-Gen Leaders
What Danita has delivered is not another self-help leadership book but a 'help someone else become a leader' book. It is a call to action for today's leaders to focus on the development of millennials as the next generation of leaders.
Millenials Matters provides a core framework that draws on Danita's extensive background coupled with some familiar truths, concepts and strategies to develop in your next-gen leaders. "A Word from a Millennial" is a feature throughout the book that injects key insights into how this generation views each of the topics enabling today's leaders to better connect with their leaders of tomorrow.
"My drive right now is to equip business leaders to shift from complaining about millennials to coaching and developing them as the leaders of tomorrow," states Danita.
Millennials Matters was released in December 2017 and is available on www.amazon.com. More information about Danita Bye and her consulting and coaching services is available at www.DanitaBye.com.
Tags: