Blog
MarComm Program – Make it Happen
posted on 14 May 2018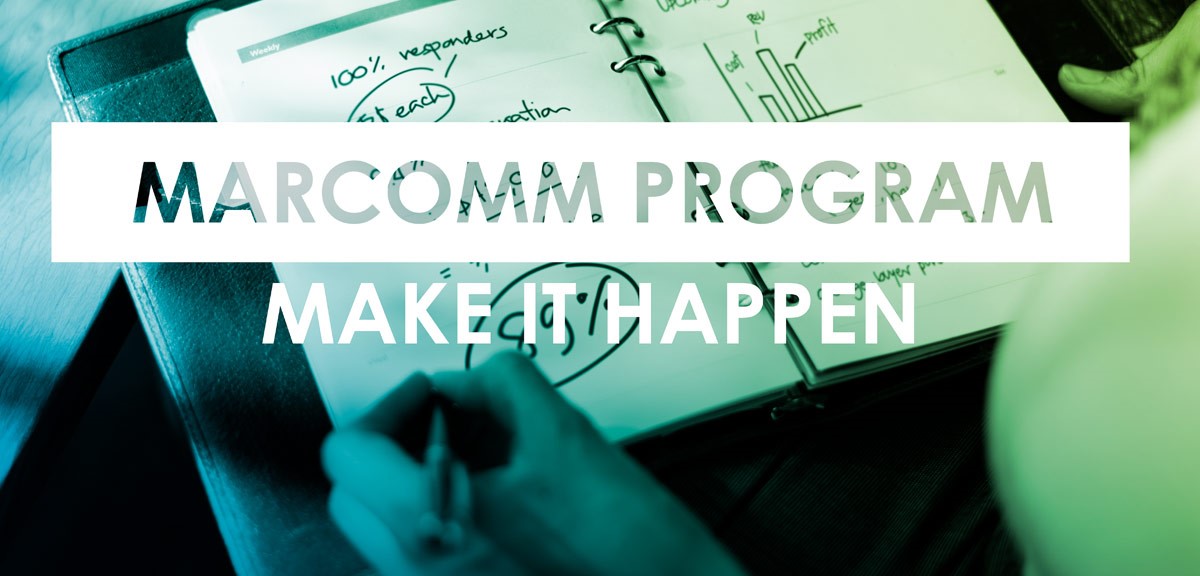 Do you think professional sports team managers make decisions on what players to start by personality? Of course they don't. Coaches train the players, run drills, and assess their skills. Every team wants to win so they make sure they have the players that can effectively execute the plays and they track the stats to make sure they are.

This is the finale of our four-part MarComm Program process – Execution and Reporting. As a reminder, the first two parts are Planning and Content Development and Management. All the preparation up to this point means absolutely nothing if it isn't implemented effectively and measured accurately.

We mentioned in the last stage, once you begin developing your marketing content you have to decide your process and systems for implementing your integrated messages. Defining these tools and methods ahead of time will ensure that your execution is consistent and efficient.
Execution

When we develop a MarComm plan for our clients we spend an enormous amount of time defining goals and objectives, delving into the business and audience characteristics, choosing appropriate channels, and creating content topics and types. Everything we have done up to this point has been the strategy – the plan of action designed to achieve our overall goal.

If strategy is determining what to do, execution is all about getting it done – it's the follow through. Good execution requires having a systematic process of clearly dispersing how's and what's, purposefully following through, and maintaining accountability.

Once you have your plan in place the next step is to clearly communicate the expectations for implementation to all support staff. Ensuring each and every person or group involved in your MarComm plan knows what tasks they have, how to accomplish them, and when is critical. If anyone is at all unsure what is expected of them you can be sure somewhere down the line a ball will get dropped. We even notify anyone outside of the organization, such as newspaper or radio account managers, what the schedule is ahead of time so they know to anticipate updated material.

With our clients we have systems and processes in place for creating, reviewing, approving, and publishing marketing messages. One person on our team is responsible for referencing the client's plan, scheduling, and writing copy for each marketing message at least four to six weeks in advance. Then, our graphic designer creates the supporting visuals and has everything proofed before sending to the client for review. After the client has approved the messages, they are scheduled for publishing.

We utilize a custom system we built to help us streamline this process. All content is stored, assets are uploaded, and messages are published according to schedule through the system. It holds everyone involved accountable with tasks dated for completion, notifications for comments and next steps, and records for reference and validation. We also meet with our client on a regular basis, usually once a month, to evaluate where we are with achieving the goals and objectives we set forth to accomplish with our messaging. From there we discuss any changes we want to make in focus, upcoming events or time sensitive material, as well as trying new tactics based on the reporting.

If you don't have access to a MarComm management system like the one we use, you can, of course, employ resources such as online calendars and Excel spreadsheets to help execute. However, we find using a system that is built to communicate with other platforms, such as social media and your website, lets us evaluate our progress more efficiently by giving us easy access to statistics and data.
Reporting

Measurement is an important aspect of any marketing program. You can't control what you don't measure. That's why one of the basic principles of Six Sigma is to develop process metrics. The results, or metrics, the process of measurement collects are like a compass that helps businesses adjust course so they can reach their goals more efficiently.

Evaluating results can be difficult in broadcast media and more objective with digital media. We use website statistics, Facebook analytics and other results data to evaluate the marketing messages and channels and inform our course of action for the future. Our system pulls the data from the appropriate platforms and automatically generates monthly reports, which we then review before sending on to our client.

Measuring just for the sake of having numbers, however, is not the idea. First, you must determine the right statistics to measure if you want to have a relevant understanding. We use Key Performance Indicators (KPIs) to measure against the goals and objectives we documented back in the first stage of the program. A KPI is not the same as the actual goal or objective; rather it is something measurable that helps you understand how well the marketing is progressing toward achieving it.

For example, if one of your goals is to increase website traffic you may measure KPI's such as: SEO keyword ranking and sales conversion rate, number of unique visitors, total sessions and visits, and average time on site or page.

If you don't measure the impact of your marketing efforts, you won't be able to determine if what you are doing is effective or not. Furthermore, when you do measure the impact, it will give you a better understanding of what is working, and where and how to improve your efforts. Marketing is a dynamic field since markets change and people change. What works well this year may not be as effective next year, and vice versa.
Getting it Done

We have said it before, and we will say it again. The key to a successful MarComm Program is commitment to the process, setting realistic goals for what you can execute consistently and carving out time to work the program regularly. Marketing becomes more effective the longer you do it so don't give up. If you commit to getting it done and follow our tried and tested process you will see results.
That concludes our MarComm Program four-part process series. Best wishes for your marketing success.