Blog
MarComm Program - Content Matters
posted on 23 April 2018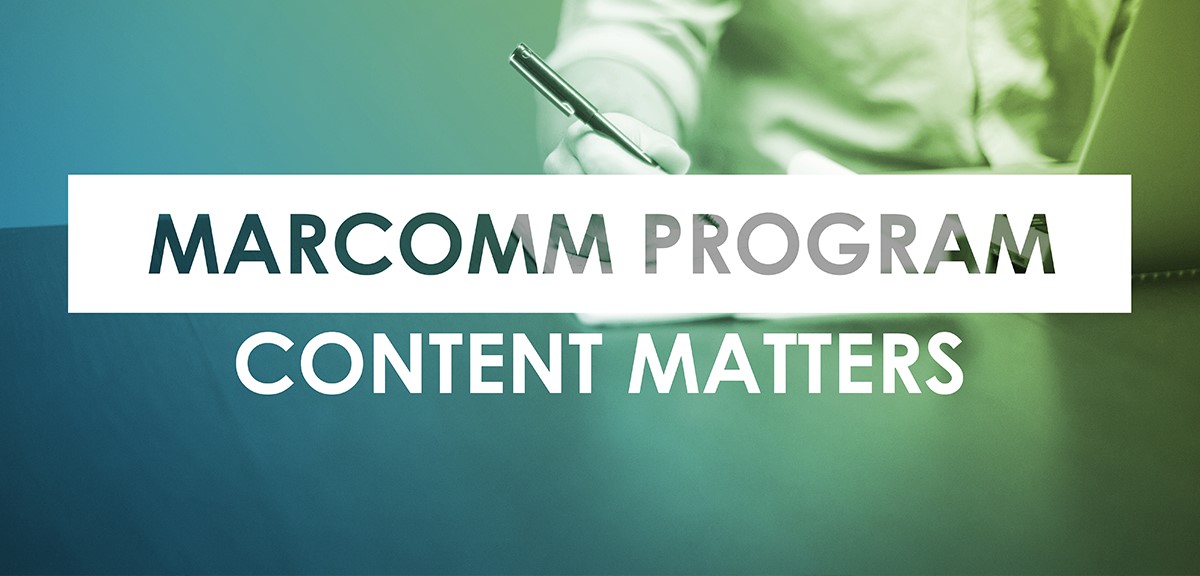 For the third installment in our Marketing and Communication (MarComm) Program column series, we get to the meat and potatoes of the process. All the research and planning finally culminates in the content development and management stage.

There is a reason Bill Gates wrote "Content is King".  The goal of content marketing is to create content with the intent to distribute it to engage with highly targeted audiences, and attract new customers in the process.

You must think of content marketing as a marathon, not a sprint. In order to be successful you must have focus, resources, and commitment. The idea is to develop content that connects with your audience and converts in order to reach your business goals. The problem most small businesses face isn't creating content. It's creating content consistently – and sustaining it over time.
Content Inventory
In the planning stage, we brainstormed an inventory of topics into an "Idea Scrapbook" and chose marketing channels based on our audience characteristics. Each month we sit down with our clients and review these lists to create our content plan for the next four to six weeks. We look ahead and make note of any time-specific messages that are relevant or that we can capitalize on such as holidays, seasons, etc. We also measure topics against goals and objectives to see if we need to change our focus.

Let's say you have been focusing your marketing efforts toward one product or service for a significant period of time. Saturation can be good at times, but after awhile your audience may begin to gloss over your message and it's begun to lose its effectiveness. Change course and begin focusing on another area of your business. Or, start to rotate your messaging to cover all service areas.

You will, more than likely, also need visuals along with your content. People are visual creatures by nature. In fact, studies show that 40% of people respond better to visual information than just plain text. The key here is to stay relevant and chose visuals that support your message. Create an inventory of original and purchased visuals such as logos, photography, graphics, videos, info graphics, charts, etc.
Development
Now that you have your content inventory, it's time to develop your messages. Here's what you need to do. First, identify what content is your top priority by referring to your goals and objectives. Then, brainstorm some descriptive points about your focus area. What exactly does it include? What are the benefits? Is it a holiday or particular time of year? Writing down detailed information about what you are trying to communicate will begin to give you an inventory of message ideas.

By now you should have a conceived a concept for a message. Refer to your chosen marketing channels to guide you through what exactly needs to be developed for each channel. Below is an example of a weekly integrated marketing message with channels and requirements.

Week 1: Service Focus
Newspaper Ad

Headline
Copy
Supporting Photography
Logo and Tagline
Contact Information

Website Homepage Feature

Headline
Supporting Photography
Call to action with link

Facebook Post

Copy
Supporting Photography or Graphic (not necessary but better results)
Call to action with link
Management
The last step is the actual management of your MarComm program. Many business owners have great intentions. They decide to implement a marketing campaign, start out strong, and then slowly fade away. Or they start tons of content pre-scheduled and when it runs out, they completely disappear. A content management plan key to ensuring your efforts are maintainable and not a "blitz and disappear" act.
Schedule
Determine your channels, frequency, lead-times and deadlines. Let's use the example weekly marketing message above. You don't necessarily need to use every channel weekly, or daily in some cases. This will depend on your budget and audience. Let's say we decide to implement the website, and Facebook weekly, but only do the newspaper ad bi-weekly.

Write down how much time you'll need to create, proof, and design each message and piece of content needed. Then, get a blank month-at-a-glance calendar. Review all of the content you want to create and how long each piece will take. Give yourself deadlines and write them in your calendar along with any hard deadlines such as press dates for newspaper ads.
Process
We have a documented process for nearly everything we do, and for good reason. A documented process is an effective road map for your marketing team to clearly define marketing messages and to alleviate anxiety. Write down how marketing messages will be completed from start to finish. Start with who will develop the content and visuals, who needs to review and approve them, what happens if changes need to be made, and how will they be distributed after they have been approved.
Systems
Now that you have your marketing message plan created, how do you execute it? Finding the correct tool for the job will depend on your channels. If you have chosen a channel such as radio, print, television or billboards, you will most likely be communicating by email to either send completed messages or approve them.

Some dynamic content such as blogs, email marketing or websites have content management areas where you can upload and distribute your messages. You can use the publishing features in Facebook to schedule posts or an integrated platform such as CoSchedule or Hootsuite to automate multiple channels. Defining these systems and processes ahead of time will ensure that your execution is consistent and efficient.

Creating relevant, consistent content can be difficult. It takes time, effort, energy, resources and knowledge. In small businesses, the expert owners who are also tasked with running the business absorb most of the marketing responsibilities. Then, when you add on the pressure of making the messaging something your audience will connect with and convert, it can get to be overwhelming.

You may need to decide if you will handle the process, or hire someone else to do it. You can accomplish it in-house or through a graphic design service that specializes in content development and management. Make sure, however, that whomever you chose is someone you can trust and who understands your company as well as your goals and objectives. Some services just create content for content's sake and that won't get you very far with your target audience.

If you choose to handle it yourself, commit to your marketing calendar and content development plan, making sure it is achievable and realistic. If it isn't maintainable you risk falling behind on your goals, feeling disheartened, and abandoning it.
"Don't bite off more than you can chew"
Set realistic deadlines and timelines. If you tell yourself you'll sit down over the weekend or after business hours, chances are you won't. Pressure to do everything at once will cause stress, annoyance, and neglect.
"Make quality over quantity a priority"
It's far better to produce engaging content less frequently than publish standard content more often. But be sure to stay consistent in your efforts. Remember, content marketing is a marathon not a sprint.
When it comes to content development and management it's easy to get motivated and generate a bunch of messages, then get busy and publish nothing for weeks or months at a time. Creating a process that you can stick to over time is harder. It requires hard work and effort, but once you begin to measure the results you will see

the rewards far exceed the effort

.