Blog
4 Steps To Improve Your Integrated Marketing Communication Plan
posted on 5 March 2018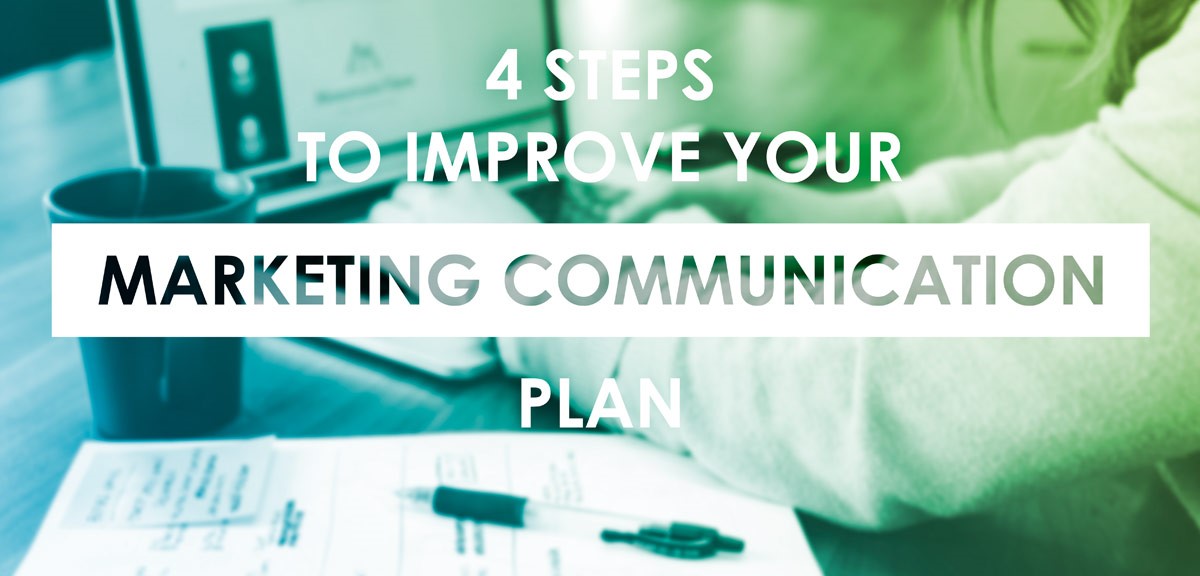 For many small business owners and managers, marketing is one of those things you do once in awhile when sales dip or an account manager from a marketing or media channel calls on you. This leads to an inconsistent or shotgun approach and the results are less effective than a well-planned and integrated marketing program.

MarComm Program
To avoid the pitfalls of a shotgun approach, start with the mindset that it is a program that you commit to working on consistently, over time and for the long term. That commitment begins with selecting a process and following it through.

We use a four-part process with our clients to develop and implement a MarComm program that includes planning, content development, execution and reporting. It's our ready-aim-fire approach with some evaluation afterwards to guide the ongoing efforts.

Part One: Planning
It is critical to have a plan to effectively direct your activities. We often refer to the Marketing and Communication Plan as the MarComm Plan or the Integrated MarComm Plan. Integrated emphasizes the importance of all your marketing, communication and advertising to be consistent and work together.

During the planning process, I encourage our clients to invest time into the activities of the planning process. Many people tend to focus on the outcome, or the plan document, when the greatest value comes from the things you explore, discover and reflect upon during the process that increases the strength of the plan document.

We conduct a series of discovery meetings with our clients to walk through the following activities that drive creation of the plan document.

Research and Reflection
We review a client's products and services with an eye toward identifying strategic opportunities to focus on in their marketing. You should also evaluate and understand why your customers do business with you as this defines the key points you want to incorporate in your messages. Additional research can be done to evaluate your competitors and explore potential marketing channels.

Goals and Objectives
Take time to thoroughly think through what you want to accomplish with your marketing activities. Examples include growing your business, lead generation, establishing your organization as the subject matter expert, driving traffic to your website, educating or informing people and increasing engagement, among others. You should have a clear and succinct list of your primary goals and objectives that guide your decision-making.

Audiences and Characteristics
Defining your audiences and characteristics informs your decisions around MarComm channels and messages among other things. List out who they are and their behaviors. Where and how do they live, work and play? What media do they consume? How do they find and use the products and services that you offer?

If your target audience is oil field workers out in the oil patch ten to twelve hours a day, you will not buy ads on daytime television. You may, however, want to use AM radio that reaches all of western North Dakota where they are driving an hour or so between wellsite locations.

Communication Channels
Research, review and select the communication channels you want to use such as print media, radio, television, digital media and social media. The focus is on those channels where the content changes regularly and not the static tools such as print brochures and signs, unless they are changeable such as our digital sign.

Some of your channels may be used on a daily or weekly basis where others may be used during special events or occasions. Include each of these and they will be further defined during the next phase of the process.

Part Two: Content Development and Management
Your plan document will now drive the development of content highlighting your strategic products and services, their benefits, and how they meet your customer's needs. We brainstorm an inventory of topics into what we call our "Idea Scrapbook."

Determine how you will develop the actual content for each of your channels for each MarComm message. Take one of our clients for example, for each message we create the print ad for the Shopper, the ad copy for radio, the website feature graphics, and the Facebook graphics and copy. This can be done by someone in-house or a graphic design service provider.

Content that is developed will then need to be approved and distributed to each of the channels. Department managers or other content owners may need to review the copy for accuracy. Upon approval, the content is sent to the different communication channels for publishing and broadcasting.

We use a set of custom systems and processes to ensure this is done consistently and effectively. You can use the publishing features in Facebook to schedule posts or an integrated platform such as CoSchedule or Hootsuite to automate multiple channels. Defining these systems and processes ahead of time will ensure that your execution is consistent and efficient.

Part Three: Execution
Now that you have a plan, work it. We use the combination of message lists, channel inventory, media calendar and our systems and processes to plan out and execute the activities.

Schedule MarComm messages by channel out into the future at least four to six weeks on a media calendar. Next, inventory the tasks to create the content, complete the reviews and approval and distribute the content.

We schedule a planning meeting about once each month to review upcoming messages as well as identify anything that could trigger additional messages. Have you added a new product or service? Do you have a customer success story to share? Is there an event or holiday coming up that fits with your products and services? Is there an article relevant to your industry and audience that you can share?

Part Four: Reporting
Measuring results can be difficult in broadcast media and more objective with digital media measurement. We use website statistics, Facebook analytics and other results data to evaluate the marketing messages and channels and inform our decisions going forward.

The key is commitment to the process, setting realistic goals for what you can execute consistently and carving out time to work the program consistently. Marketing becomes more effective as momentum builds over the long term. You can start now by making a commitment.